Your reputation depends upon it
Online reputation is no longer "just" online.  With the proliferation of mobile devices and an increasing use by the general population, online reviews are everywhere your customers are.  And with the increasing reliance on online reviews by consumers, to gauge which companies to do business with, your company needs a plan. Lets look quickly at the state of online reputation and then get into some guidelines for your business's  reputation management.
The state of online reputation
94% of searchers never go past the first page of results (Socialnomics).
And according to Search Engine Land, customers overwhelmingly (88%) "trust online reviews as much as personal recommendations". Of that 88%, half read multiple reviews before deciding to trust a business. And the other half look for "authentic" reviews. Marketing land says that of those who read online reviews 86% pay attention to negative comments.
So online reputation can seriously impact your business. And you should begin to consider page one of your search engine results as your business card.   According to the Telegraph, if a brand has a negative review/site on page one, that company is "likely to receive 35 per cent fewer clicks".  That's a third of potential clients right out the door.
And this trend is only going to increase, as 18-34 year-olds are three times more likely to complain online than older generations(Adweek).
Guidelines
First lets be clear what a disaster looks like: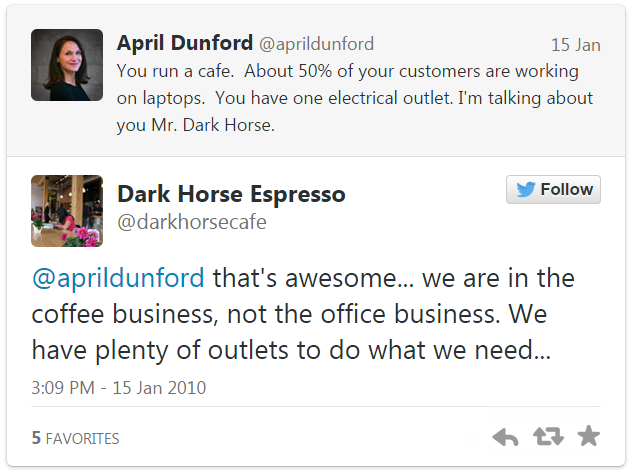 That is a disaster in the online world… a horrible one at that.  It's the quickest way to get a negative grassroots social campaign against your business. To see why this is so bad, and to understand what makes  good reputation management lets look at :
4 Social Media Touchstones 
(Derived in part from KISSmetrics: guide to online reputation management)
First and foremost, have a vision of
providing quality, compassionate and honest communication with your customers. These guiding principles will help your team understand what your customer relationships should look like.  And as you work towards that vision, you will become well respected.
Second, prepare a disaster plan.  
Before you do anything else, prepare a disaster plan. And make sure everyone knows how to implement it within your vision.  Prepare broad responses for things you can't imagine will happen, so that your first response can be quick, compassionate and honest.  That will provide time for your team to plan the next step within your vision.
Address genuine criticism with transparency.

Have too few outlets? Say something like "Thank you for bringing that to our attention, we'll look into options to better serve our customers.  Your feedback helps us create a better coffee community."   This buys you goodwill and time to find out how to engage more customers.  Customers who you win over are customers that will spread the word, and customers that you spurn will do the same.

But there are two occasions where you may need to play hardball.

Some people just want a fight, we call these people "trolls" online. And they thrive on riling you up and smearing you.  They can be spotted by often not having a grievance, and mostly having anger.  For these, your responses should be to try to get the conversation offline.  Or at least show good faith efforts to do so.   Answers like "We would love to discuss your concerns further, can you please call us to see how we can make it right," will show future readers of the complaints your honest attempts to make it right.  And if the troll keeps on trolling, few people will give them credence.
Some trolls will then take it to the next level, and that's when you should consider doing the same.  If someone is making a concerted effort to smear your company without good cause, you may need to hire specialists who will know how to handle escalated issues, and when and if to bring in lawyers.
Third, implement your vision and plans.
Now that you have a disaster plan you can start implementing your customer service vision. First you will just be monitoring reviews, comments and the first page of your Google results.  And as customer service opportunities arise, meet the challenges with an eye on your vision.  Remember online reviews, and the first page of search results are akin to personal recommendations, anything that's out of place can hurt your bottom line.
Fourth, be humble.
Being humble means learning from your mistakes, and showing your clients the steps you're making to improve.  Additionally, if in doubt ask for help from a professional.  Asking for help on day 0, can dramatically reduce the spread of a problem by day 1.  Remember, you may have the tools in house to handle a small stove fire, but not an inferno.  Make assessments, and call in the cavalry earlier than later.  A consultant's fee is well worth stemming revenue and customer loss.
Summary
So remember Online Reputation is no longer just online, and it can have dramatic impacts upon your potential customers.  And to better manage your reputation implement the four touchstones:
have a vision
prepare a disaster plan
implement your vision and plans
be humble
If you implement these touchstones, you'll be on your way to creating outstanding customer experiences.  And turning your customer service opportunities into lifelong customers can turn your challenges into strengths.
While planning your Reputation management what are some things you'd include in your disaster plan?
Do you think that, providing quality, compassionate and honest communication and being humble are good guiding principles, or do you prefer some others for your business?
Comments