9 Inexpensive or Free PR Resources for Small Businesses
Publisher: PR in Your Pajamas
Scope: Article, Publications
Technologies: Pr Tools
Year: 2015
Description: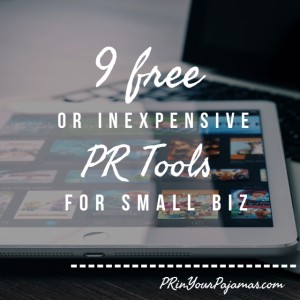 I researched several PR tools, wrote about 9, and what place in a PR workflow they fit.
How to find the right reporter to send your news to
How to find the reporter's requests for articles/interviews
How to approach the reporter
How to keep track of your brand
The article was published on PR in Your Pajamas. Which has been consistently recognized by the PR industry as a top blog.
2015 – Marketwired: "Top 10 PR Blogs You Should Be Reading"
2014 – Adweek: "The 25 PR Blogs to Bookmark"
2014 – Meltwater: "Top 15 PR Blogs You Should Read Regularly"
2013 – Cision: "Top 50 Marketing and PR Blogs in North America by Influence (#15) "
Comments