Tracking Eyes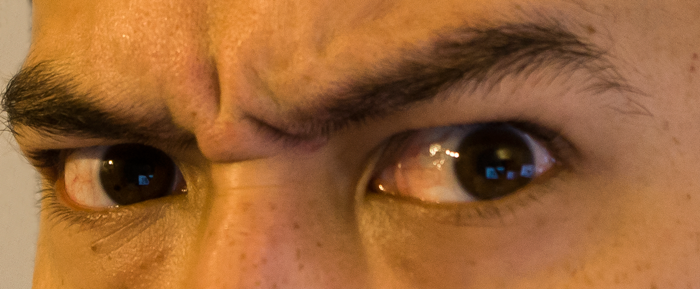 Eye tracking can do many things, from helping you to determine how effective your sale banner is, how effective your content style is, and how much an expert someone is. Let us look at some uses, key findings and examples of eye tracking research.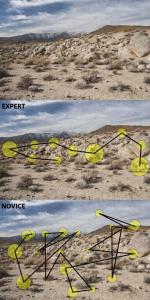 One of the key uses for eye tracking has been to increase accessibility for persons with disabilities, such as quadriplegics.  Using their eyes, they can move, communicate, and do a variety of tasks which otherwise would be difficult to do.  Another application is to determine the differences between experts and novices in a given field.
For example, a group of geologists was recently studied to find the differences in eye movement between the professional and amateurs in the group. (See image to the left) As you can see from the image, the experts (middle) were quite systematic in how they looked at a scene, while the novices (bottom) were very erratic and tended to divide their attention more.  In addition to eye movement and focus differences, novices and experts also tend to have differences in how their irises work. Eye-com Corporation has a software that looks at two types of muscles in the iris to determine a user's level of expertise in a given field.
Eye tracking is even used in by some companies to determine the effectiveness of labels and shelf placement of products in stores. And it has even made it's way into consumer products such as the Amazon Fire phone which provides a semblance of 3D by tracking the user's viewing angle.
But what does eye tracking do for the digital marketing of a business?
Check out this youtube video from Etre showing how they use eye movements to help businesses.
As you can see, the process is interesting and can provide some interesting insights into web design; such as the sale banner that no one saw, despite it's prominent location, bright red color and large font.  Such human based research can be invaluable, but also costly and time consuming.  In response, some companies like EyeQuant offer computer modeled eye tracking that can substitute for or enhance human based eye tracking research.  They even offer an almost immediate look at your site, just for entering your information on their homepage.
So as I just mentioned, cost and time can be limiting factors to the ROI for eye tracking. Even the computer modeled EyeQuant is costly at a starting monthly fee of $199. What are some other factors to consider?
UX Magazine goes into limits to eye tracking's abilities.  Perhaps the most interesting example of limits was the Ketchup situation.  The Ketchup situation is the experience of looking in the fridge for ketchup, and not finding it, even though you were staring right at it.  Yet despite the Ketchup situation, UX says that most often eye movement follows attention. Thus eye tracking for the most part is a practical way of tracking attention.
What do you think, would you as a small business invest in eye tracking? Or would you prefer to invest in a design expert who can integrate available research into your site's design? Or perhaps both?
If you're such a designer, what is your practice for testing your site on users?  Do you incorporate eye tracking, either via machine or via verbal responses?
Comments
4 responses to "Tracking Eyes"