blogcatalog email campaign
Class: Digital Imagery in Web Design
Scope: Email Template, Copywriting
Technologies: Photoshop
Year: 2014
Description: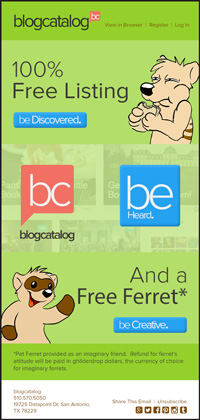 This week we continued our Integrated Marketing Campaign by working on an email.  The email was to carry the same aesthetics and feel of the ads, and continue where they left off.  For this email campaign, I decided to give the company a little bit of a personality.  Based of my experience of brands like Mailchimp and readings from A List Apart, I decided to go with a friendly, jovial and jocular personality with a hint of attitude.
As I said last week "of course it should be noted that I am not affiliated with blogcatalog, and these ads are a class assignment. So any offers in the ads are purely for class purposes and may not reflect the offerings of blogcatalog."  Additionally the illustrations are not my own, they are from Thomas Novotny; a great artist at http://www.ohnitsch.net/. And they are used with only minor changes.
The first thing I did for this week's project was decide the personality of the brand, and flesh out some new copy for the email. Afterwards, I created the file, and imported layers from the skyscraper ad and the rectangular animated gif ad.  Doing so took a lot longer than expected, as I had to merge a variety of layers, sort them, and eliminate redundant layers. Once I had them sorted into like-groups, I then began to create groups based off the structure, header, first section, etc. and moving assets into those new groups.
The design and sections were moved around a little, as I tried to find an appropriate way of keeping the aesthetics of the ads and maintaining flow within one document.  I continued by adding structural text like "log in," "unsubscribe," social links and others. I also added illustrations and had to take some time to slightly edit them to reduce noise and to fit the layout. Otherwise the design was pretty straight forward following from the layouts of the ads. You can click the ad to see the full version.
The final step I did was to prepare slices for export using the create slice from layers feature in Photoshop.
What do you think? Is it a natural progression from last weeks ads or is it a bit of a jump between the two?
Comments